Due to the current complexities with importing silk and silk-blend yarns, and because of the worldwide coronavirus, what I have in stock here is all that I have to offer for the immediate future. (These yarns were imported prior to the pandemic and have been kept in a sealed environment.)
My primary focus is on the softest fibers available, yet with a concern for strength. So most of the yarns I carry are silk and silk/wool blends. These protein-based yarns dye beautifully with the Minnesota Series Dyes™, but are also elegant in their natural, undyed state. Some yarns are very unique and quantities and/or availability may be limited. Contact me if you need a larger quantity than is in stock or if you desire a different length/weight skein.
More undyed yarns are found in the Saga HIll pop-up market booth. (In particular, Silk for Life yarn – a 100% cultivated silk yarn handgrown and spun in Colombia, South America in collaboration with the weaving community in Milwaukee, Wisconsin.) Check the Saga Hill Markets page for upcoming market locations.
---
CLICK ON THE TITLE OR IMAGE TO GO TO THE SHOP PAGE FOR THAT YARN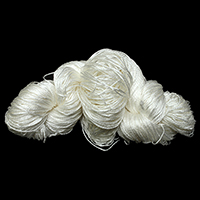 ---
---