UPCOMING CLASSES
BY W.J. JOHNSON OF SAGA HILL…
2022
---
CITY OF PLYMOUTH, PARKS AND RECREATION
Plymouth Creek Activity Center, 14800 34th Avenue N., Plymouth, MN 55447. Click here to visit the City of Plymouth website and register for upcoming classes.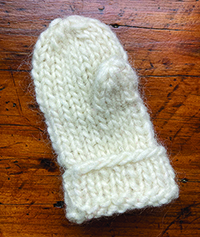 Beginning Mitten Knitting with a Holiday Twist
(activity #35147-01)
Saturday, November 12, 9:30 AM – 12:30 PM.
Make a great gift or treat holder for the holidays, and learn the basic steps for knitting traditional Nordic mittens on double-pointed needles by knitting a mini-mitten designed by W.J. Johnson of Saga Hill. The mini-mitten is a young child's size (or treat-holder size), but the pattern provided will also include adult-sized mittens that may be knit at home. We will discuss ways to embellish the mittens with a special holiday flair.
Knitting level:
Students need to have basic knitting skills (know how to cast on and knit).
Materials:
Bring size 9 double-pointed needles (preferably in a set of 5), small stitch holder, tapestry needle, and any general knitting supplies you may have. The instructor will provide the yarn and the pattern.
Register at the City of Plymouth, Parks and Recreation link above. To select the class, enter the activity number on the registration form.
---
GALE WOODS FARM
(Gale Woods is an educational, working farm and a public park in the Minnesota/Twin Cities Three Rivers Park District and is located at 7210 Cnty Rd 110, Mound, MN 55364. To register, call the farm at 763-694-2001 or the Three Rivers Park District Registration Desk at 763-559-6700.)
Half-Day Workshop in October:



Fiber Processing and Beginning Drop Spindle Spinning
Saturday, October 22, 10 AM – 2:30 PM.

Enjoy this relaxed in-person learning session and leave with yarn that you have learned to spin yourself! In the first part of this class, you will have fun learning various hands-on wool fiber spinning preparations using the wool from resident Gale Woods sheep. Then, with the wool you have prepared yourself, you will learn to spin your own yarn on a drop spindle which you may keep and take home to continue your spinning adventure. A tour to meet the farm animals is included. Bring a box lunch. Coffee, tea, and water are provided.
Call the Three Rivers Park District phone numbers shown above for more information and to register.
---
UPCOMING CLASSES
BY W.J. JOHNSON OF SAGA HILL…
2023
NEW!
AMERICAN SWEDISH INSTITUTE (ASI)
American Swedish Institute, 2600 Park Avenue, Minneapolis, MN 55407; 612-871-4907.

I will be offering two flax production and spinning classes as part of being awarded the 2022–2023 ASI Teaching Tools Grant (for flax processing equipment) (click here for more information). The first class, on April 22, 2023, will be on the history of Swedish flax and flax history and production in general, with half of the class time dedicated to hands-on flax processing. The second class, on May 6, 2023 is for experienced spinners only (although, only basic spinning skill is required) and will offer a brief overview of Swedish flax production and processing, with the majority of the class time dedicated to learning how to spin pre-prepared Swedish flax. Registration for the ASI classes will open up at the end of 2022 at the ASI website.
---
Classes are added as opportunities come up.
Keep in touch!
If you're interested in any class shown but can't attend on the scheduled date, please contact me.
If you don't see a class that interests you, some of my previously taught classes include: Swedish Knitting Heritage classes, such as Lovikka Mitten Knitting; Tvåändstickning (Two-Ended/Twined Knitting); and Halland/Binge Knitting. Other knitting classes I offer are: Beginning Fair Isle Knitting (two-color knitting; Beginning Lace Knitting; Beginning Knitting; Modular Knitting; Beginning Mitten Knitting; among others.
Among my spinning classes are: Beginning Spinning with Spindle & Wheel; Spinning Short Fibers; Silk Spinning; Flax Processing & Spinning; Spinning Camelid Fibers; Wool Fiber Processing; and Fiber Dyeing.
If any of these subjects sparks your interest (or a class on another subject), please let me know. Advance interest helps establish future classes.
---
Private classes & Speaking Engagements
I am able to schedule in-person private classes for individuals fully vaccinated for COVID-19 and groups following COVID-safe protocols. I also speak before groups on the subject of Swedish textiles and their history. Please contact me for more information.
I look forward to seeing you at an upcoming event or class!